Unlike most creativity courses that focus only on idea generation and design courses that focus only on refining existing ideas, this course teaches you a diverse set of tools within a complete roadmap that takes you from problem identification to ideation to implementation to commercialization.
The Innovation and Design Thinking course follows a systematic innovation roadmap, D4 (Define, Discover, Develop and Demonstrate) to identify unmet customer needs, generate ideas to fulfill those needs, analyze the most promising solutions and test the end product/process. It enables you to do this within a purely innovation context, or as an enabler to your Lean Six Sigma program or project.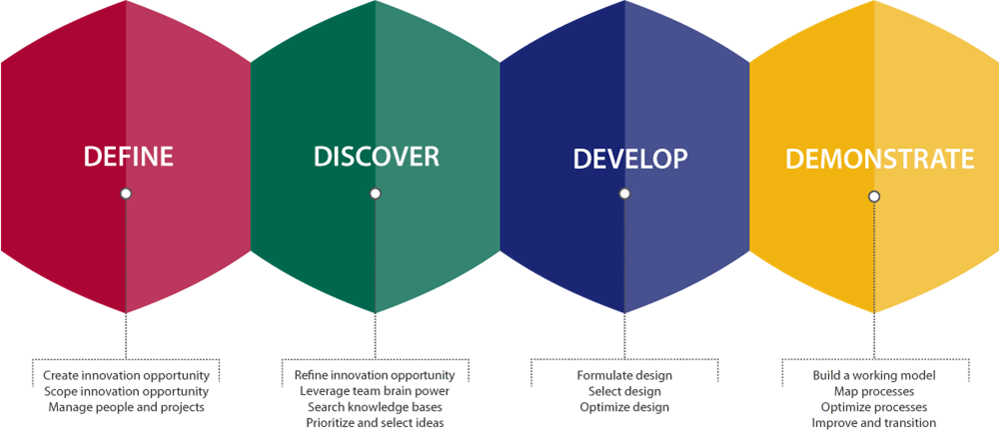 D4 Pipeline: Define, Discover, Develop, Demonstrate
This course offers you the opportunity to work on a real business issue with guidance from the innovation experts behind The Innovator's Toolkit: 50+ Techniques for Predictable and Sustainable Organic Growth. As a participant, you'll learn the authors' unique approach for innovating and designing new products, services, processes and business models.
Techniques learned and applied in this course include but are not limited to:
Define
Jobs To Be Done
Outcome Expectations
Ideal Innovation
Job Scoping
Kirton Adaption-Innovation
Nine Windows
Discover
Resource Optimization
Random Stimulus
Imaginary Brainstorming
Structured Abstraction
Concept Tree
Six Modes of Thinking
Develop
Function Structure
TILMAG
Morphological Matrix
Demonstrate
Mistake Proofing
Prototyping & Piloting
With a hands-on, applied focus, this course teaches innovation and design tools in a workshop environment—complete with interactive lectures, practice exercises for each tool, simulations, and individualized mentoring on your real problems and challenges. You'll practice solving mini problems and case studies throughout course and apply the full spectrum of thinking and tools to solve a bigger problem toward the end.